Management Team
---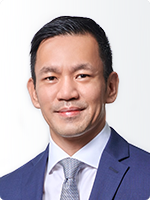 Russell Ng
Chief Executive Officer
Mr Ng joined the Manager in September 2020 and was Head of Investment, Investor Relations & Partnerships prior to his re-designation to Chief Executive Officer in November 2021.
Mr Ng works with the Board and Management Team to determine the strategic direction, overall business and investment strategy of AA REIT. He is responsible for the day-to-day management and execution of the REIT's business plan
Mr Ng has over 18 years of experience in direct real estate investments, asset management and corporate finance in Asia and Australia. Prior to joining the Manager, he held senior fund management and investment roles with Lendlease, AEP Investment Management and Mapletree Logistics Trust.
Mr Ng holds a Bachelor of Applied Finance and a Bachelor of Commerce (Accounting) from Macquarie University, Australia.
---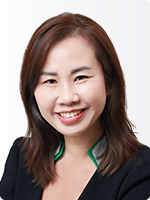 Lim Joo Lee
Chief Financial Officer and Company Secretary
Ms Lim joined the Manager in October 2021 and has over 20 years of experience in financial and management reporting, auditing and various finance-related work including capital management.
Ms Lim heads the Finance team and assists the Chief Executive Officer on the finance, taxation, treasury, capital management and as well as corporate secretarial matters of AA REIT.
Ms Lim holds a Bachelor of Science with First Class Honours in Applied Accounting from the Oxford Brookes University. She is a Chartered Accountant with the Institute of Singapore Chartered Accountants and is a Fellow Member of the Association of Chartered Certified Accountants.
---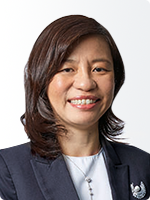 Toh Lay Gan
Head, Asset Management
Ms Toh has been with the Manager since March 2015 and has over 25 years of experience in the real estate industry and expertise in asset and lease management.
As the Head, Asset Management of the Manager, Ms Toh is responsible for the asset and lease management of AA REIT's portfolio.
Prior to joining the Manager, she was the Head of Portfolio and Asset Management with Ascendas Land (S) Pte Ltd, now known as CapitaLand Singapore (BP&C) Pte. Ltd. She also held various roles in the Ascendas Group heading the asset management/leasing teams of different property clusters. Ms Toh was credited particularly for her involvement in the successful launch of Ascendas REIT in 2002. Prior to joining Ascendas, she was with DTZ Leung and Far East Organisation where she specialised in valuation and marketing of industrial properties respectively.
Ms Toh holds a Bachelor of Science (Honours) in Estate Management from National University of Singapore.
---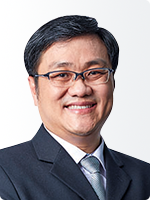 Heng Khiam Yeong
Head, Development & Facility Management
Mr Heng joined the Manager in January 2018 and has over 22 years of experience in real estate development spanning across architectural consultancy, project management, migration management and contract administration for green and brown field projects. His experience spans across a variety of sectors such as industrial, banking, theme parks, institutions and residential.
As the Head, Development & Facility Management of the Manager, Mr Heng is responsible for the facility management of AA REIT's portfolio and oversees all development and/or asset enhancement initiatives.
Prior to joining the Manager, he was the Senior Associate Director at Davis Langdon KPK, an AECOM Company. He was responsible for the project management consultancy services in Singapore and reported directly to the Executive Director of Construction Services. He was also AECOM's local and regional point of contact for several key clients.
Mr Heng holds a Bachelor of Arts (Architectural Studies) from National University of Singapore and a Bachelor of Architecture from Deakin University, Australia.
---