Sustainability Overview
Board Statement
Dear Stakeholders,
In the last few years, we have seen a pivotal shift in the expectations of the role businesses play in society. The global pandemic has also created significant additional momentum for change by reinforcing the importance of building a sustainable business. At AA REIT, we recognise the responsibilities we have towards our various stakeholders which include investors, customers, business partners, as well as the communities we operate in, and we strive to deliver on that responsibility.
As the Board of AA REIT, we continue to provide oversight over the identification of ESG issues that are relevant and material to our business. In FY2023, we reviewed and refreshed what we have identified as our key material topics and have set new targets and commitments as part of our efforts to reinforce our sustainability focus. The identified topics have been recognised as having significant potential to impact our business and influence the decisions of our stakeholders.
In the interest of advancing our ESG agenda, we have formalised a framework to ground and guide our sustainability efforts. As we strive to embed ESG and sustainability considerations into our business and investment decisions, the framework serves to provide an overarching view as to how we think about these issues. Alongside this, we have outlined a five-year roadmap with several initiatives targeted specifically to help us achieve our ambitious short, medium and long-term ESG goals, which are measurable and strategic.
These goals include an ambitious commitment to reduce 42% of our Scope 2 greenhouse gas emissions by FY2030, from a FY2020 base year. Furthermore, this target was set in- line with the Science Based Targets initiative ("SBTi"), and in accordance with the goals of the Paris Agreement to limit global warming to 1.5°C above pre-industrial levels. This target was determined through a carbon baselining exercise which led to the identification of initiatives to reduce our carbon footprint.
In our efforts to mitigate the effects of climate change, we have taken our first steps towards assessing climate-related risks and opportunities by conducting a climate risk assessment of our portfolio and office headquartered in Singapore. The high-level results of this effort can be found on pages 97 to 98. In this year's report, we are providing disclosures in accordance with the TCFD recommendations for the first time, which include an overview of our climate governance, strategy, risk management approach, identified climate-related risks and our metrics and targets. This also marks our continued commitment towards greater accountability and transparency.
Other key environmental highlights in FY2023 included our partnership with SP Group to install rooftop solar photovoltaic ("PV") systems across six of our industrial, logistics and warehouse properties by December 2023. The total solar PV is estimated to produce a combined 14,500 megawatt-hours of energy per year, which will help avoid over 5,900 tonnes of carbon emissions.
On the social front, we remain committed to nurturing an inclusive and supportive culture. We also made progress on diversity and inclusion, with 61% of our workforce being women and having at least 20% representation of female Directors on the Board. We continued our efforts to provide the best environment for our employees, supporting their well-being through a series of health and wellness initiatives and ensuring the highest standards of safety, fairness and working conditions. In the community, we partnered with non-profit organisations such as the Food Bank Singapore to distribute food bundles to 100 lower-income families and Habitat for Humanity to rehabilitate home conditions for three vulnerable families. We will continue to show our support to local charities to help improve the lives of vulnerable members of the local community.
The seventh Sustainability Report for FY2023 ("SR FY2023") details our efforts and achievements made on the ESG front during the year and is the culmination of hard work by the team. We would like to express our gratitude to everyone who has contributed to our sustainability journey. Looking ahead, there is more work to be done as we look to drive sustainability trajectory within our business and operations. We look forward to providing all of you with favourable updates on our progress in our roadmap in the coming years.
The Board of Directors
AIMS APAC REIT Management Limited
To access the full Sustainability Report, please refer to the following: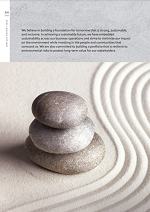 FY2023 Sustainability Report
Date: 22 Jun 2023
File Size: 9.41 MB